Welcome to evanesencefan.net – your source for eerything evanescence, since 2006, here you will find all the latest news, tour information, pictures, media and more. Don't forget to check out the gallery containing thousands of pictures from the "fallen" days right up until "the open door" era. This site also has all the latest info on amy lee and her various solo projects. Have a look around, enjoy and please visit us again!
Evanescence release charity Haiti song
Evanescence have released a single to raise money for the Haiti earthquake appeal.
'Together Again' has been made available as a free download to anyone who donates over $5 (£3) to the United Nations Foundation through the group's official website.
The track is an outtake from their second album The Open Door, released in September 2006.
Concert Pictures: Grand Ballroom NYC
On Wednesday night (November 4) Amy Lee and the rest of Evanescence took to the stage, for the first time in about 2 years, at the Grand Ballroom in New York. Amy looked and sounded amazing! At one point she thanked the fans for coming out to support them at their "rehearsal" gig. She jokingly said: "Thanks for being our guinea pigs."
x22 pictures in the gallery. Credit goes to the various photographers! Watch some awesome videos (thanks to a lucky fan who attended) below and after the jump: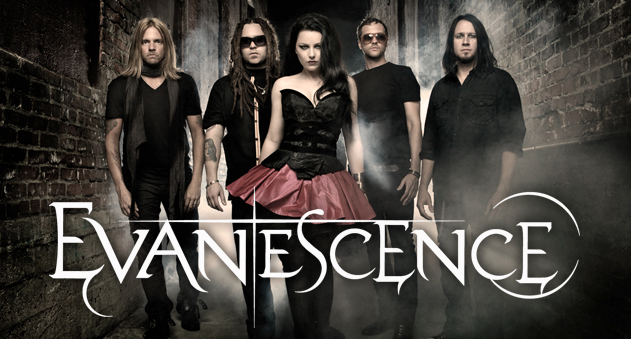 Evanescence is a hard rock band from Little Rock, Arkansas. They were formed in 1998 by vocalist Amy Lee and former guitarist Ben Moody. By combining Lee's unique soprano with a strong metal backing, Evanescence has become one of the most well-known bands of the 21st century.
 While each of their songs may be meaningful and of high quality there will always be a top ten. Taken from Evanescence's three albums Fallen (2003), The Open Door (2006), and Evanescence (2011), here are their top ten songs to date:
 1. Bring Me To Life – Fallen (2003)
 Until 2003 the hard rock scene was dominated by male vocalists, with Tarja Turunen of Nightwish being the only reprieve. This track introduced another siren to the scene – a blast of feminine adrenaline that was sorely lacking.
 2. Call Me When Your Sober – The Open Door (2006)
 This track can be described as the one about the dodgy relationship with the giggle at the end. Lee sings from the heart, making this song easily to relate to if you have ever found yourself in a dicey love affair.
 3. My Immortal – Fallen (2003)
 "My Immortal" is one of those hauntingly beautiful songs that cause your heart to ache. While Ben Moody is no longer with the band, this track is a strong reminder of his contributions.
 4. What You Want – Evanescence (2011)
 After an indefinite break, Evanescence is back with a more mature album (but still full of gothic goodness!). "What You Want" is the first single off the album, and with its high energy sound served as the perfect return.
 5. Hello – Fallen (2003)
 This track is another soul-piercing melody. Although the personal memories inspiring this track have never been discussed, it doesn't really matter. The song's beauty transcends all definition, meaning, or purpose.
 6. End of the Dream – Evanescence (2011)
 Evanescence is known to write about death, life and everything between. This emotional track explores an understanding of one's relationship with death – follow your heart because life does not last forever.
 7. Going Under – Fallen (2003)
 This song allowed Amy's fans to experience her voice beyond that of a spine-chilling whisper. Although the title suggests depression, the song is about independence – and with Lee's symphonic screaming it's difficult to not feel empowered.
 8. Swimming Home – Evanescence (2011)
 It's said the song is written from the perspective of a person moving onto the next life, and with the mild electronic music feel meeting Lee's harp-playing it's an interesting journey.
 9. Lithium – The Open Door (2006)
 Contrary to popular belief, this is not a song about drugs. While the song may discuss an emotional numbing, it's near impossible to feel nothing while listening to "Lithium".
 10. My Heart is Broken – Evanescence (2011)
 Evanescence's vocalist says this track was inspired by her work with Restore NYC – a charity that rescues victims of sex trafficking. The second single off their latest album, Lee believes this to be some of her most passionate work to date.